Ottoman beds and storage beds provide a neat bit of extra space for stuffing away your winter duvet, Christmas decorations or those clothes which you are clinging onto just in case they come back into fashion.
Most are 'full ottoman' beds which give you the whole space under the mattress whilst some cheaper ones are just 'half ottoman' beds. Ottoman beds usually open from the foot of the bed, with some opening from the side. There isn't really a big advantage either way, but the shape of your room might determine which one you need.
Some ottoman beds are electric, so they lift up and down with a button but most of them just use clever hydraulics so they are relatively easy to open and close without removing the mattress.
We've picked out 10 of the best value ottoman beds from top retailers Dreams, Bensonsforbeds, on the UK market.
Top 10 Ottoman Beds Review
#1. Zena Ottoman Gas Lift Storage Bed Reviews

Highlights:
Modern Italian Faux Leather Bed
solid Metal inner frame Sprung Slatted Base
Stitching May Vary
Available As Shown In Contemporary Black Brown or White.
Ottoman storage is without feet as shown in second image
Double – L 204 cm x W 145 cm x H 97 cm
King size – L 214 cm x W 158 cm x H 97 cm
>> View More Info | >> Read Customer Reviews
#2. Berlin Upholstered Ottoman Bed Review

Highlights:
Gas Lift Pistons
Plenty of Storage
Fabric Storage Floor
Hard wearing Faux Leather
Sprung Slatted
Can support mattresses up to the weight of 45kg
The Berlin ottoman from Birlea is a modern style hard wearing faux leather bed in a choice of Brown or Black. The Berlin also has a large hidden storage area, this extra space is ideal for modern day living and is very easily accessed.
Overall the Berlin is an excellent choice for customers wishing to extend the functionality of their bed while conserving space in the bedroom.
>> View More Info | >> Read Customer Reviews
#3. Birlea Phoenix Stone Grey Ottoman Bed Reviews

Description
The Phoenix Stone Grey Wooden Ottoman Storage Bed serves not only as a stylish ottoman bed but an excellent space saving solution. Ideal for bedrooms that need to make the most of the available space, the ottoman section of the Phoenix Stone Grey Wooden Ottoman Storage Bed is easily accessed via gas powered pistons. The comfortable and secure sleeping area is able to easily accommodate any kind of mattress, and the aforementioned gas powered pistons are strong enough to lift up the bed with a mattress atop it.
>> View More Info | >> Read Customer Reviews
#4. Gia Ottoman Gas Lift Fabric Storage Bed Review

Highlights:
Fabulous Modern Designer Italian Fabric Bed
Durable Strong Hardwood Frame
Sprung Slatted Base
Available As Shown In Grey.
Standard UK Small Double (4FT) Double Bed Size (4FT 6″) King Size ( 5FT) and Superking Size (6FT)
Deeper Than the standard storage bed.
Double – L 204cm x W 145cm x H 89cm
King – L 214cm x W 158cm x H 89cm
>> View More Info | >> Read Customer Reviews
#5. Happy Beds Phoenix Ottoman Bed Reviews

Descriptions:
A stylish sleeping surface as well as an impressive means of storing belongings, the Phoenix Oak Wooden Ottoman Storage Bed is a naturally beautiful ottoman bed that is perfect for bedrooms that need to make the most of the space available in cosy rooms. Lifted with gas powered pistons, the ottoman capabilities of the Phoenix Oak Wooden Ottoman Storage Bed allows sleepers to rest safely atop it and access the immense storage space with ease.
>> View More Info | >> Read Customer Reviews
#6. Madrid White High Gloss Storage Ottoman Bed Review

Descriptions:
The Madrid Bed is delightfully crafted with additional storage features to give a graceful look and space saving design to your bedroom. The bed has storage access in the head board which also comes with 16 different coloured LED lights. The Madrid high gloss bed also comes with underneath storage, with its unique design and high gloss finish it will be an asset to your bedroom.
This bed is designed and crafted with high quality materials and a strong base to give it stability, it goes perfectly with our wide range of mattresses. It's easy to assemble base ensures its ability to hold up heavy loads and provide an even sleeping surface.
Colour:
White High Gloss
Grey High Gloss
Black High Gloss
Walnut High Gloss
>> View More Info | >> Read Customer Reviews
#7. Bentley Ottoman & Bluetooth Speakers Led Bed Reviews

Descriptions:
BEAUTIFUL DESIGN – Modern, stylish and functional, the Bentley LED Ottoman & Bluetooth Speakers bed really does have it all. This fantastic modern bed frame is available for selection in either 4ft6 Double or 5FT King Size. The designer bed comes in black, grey, white (black trim) or silver crushed velvet.
The LED light feature of this bed allows you to adjust between varieties of colours: blue, orange, pink, green and purple. The light also has a strobe setting, a flashing option and also includes a smooth change mode allowing for gentle transition between the colour options. The gas lift ottoman storage makes for easy use, giving you the opportunity to neatly store any clutter lying around the bedroom.
Connect your music device to the bed via Bluetooth connectivity and wirelessly play your favourite tunes whilst relaxing. Behind the headboard you will find a handy USB port so you can charge your phone whilst you sleep. Also features an auxiliary port. All these fantastic features can be controlled via the handy remote provided.
>> View More Info | >> Read Customer Reviews
#8. Copenhagen Upholstered Ottoman TV Bed Review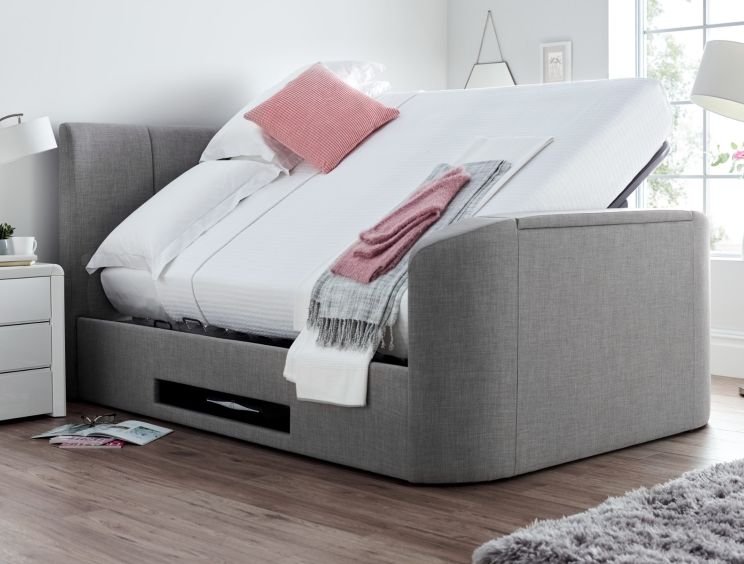 Descriptions:
Striking looks and a practical space saving solution the Copenhagen TV Ottoman bed combines functionality with style. Perfect for relaxing simply kick back and relax, the TV can be effortlessly raised and lowered from the comfort of your bed with the hand held remote.
The clean contemporary design of the Copenhagen Ottoman TV bed is sure to make a striking addition to your bedroom. Beautifully upholstered with subtle stitching detail the Copenhagen represents outstanding value without compromising on quality.
The latest generation slimline foot end bed of the bed houses the TV Mechanism which features automatic cut off so once your TV is lowered it automatically turns off. A shelf in the base of the bed enables DVD players and gaming consoles to be conveniently stored.
>> View More Info | >> Read Customer Reviews
#9. Tempur Horton Ottoman Bed Frame Reviews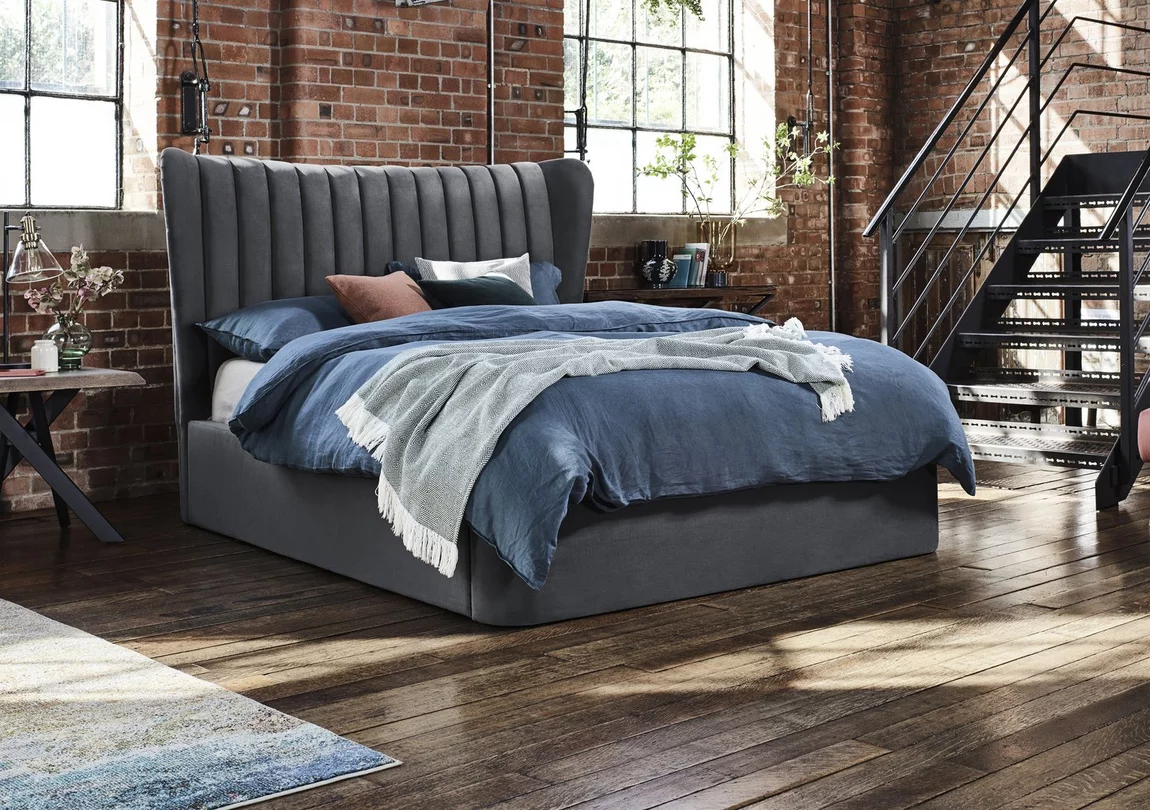 Descriptions:
Upholstered in sumptuous velvet, with a grand, winged headboard, the Tempur® Horton ottoman bed frame certainly has that 'wow' factor. Yet it's a very practical choice for your bedroom too, as it has lots of very useful hidden ottoman storage. The stunning fluted headboard in dark grey or silver grey velvet adds drama and sophistication to your décor, and you can use the under bed storage for linens, clothes and more. Beautifully handcrafted by Tempur and available at an outstanding price.
>> View More Info | >> Read Customer Reviews
#10. Kaydian Barnard TV Bed Review

Descriptions:
Stylish TV side lift opening Ottoman Storage Bed designed with ultra slim foot board encasing a mechanised system for TV storage and viewing. With remote control mechanism the Barnard has the capacity to house up to a 42″ TV – size D75 mm x W950 mm x H580 mm (subject to model port fittings) and has an ultra slim quiet function lift mechanism. A spacious floating floor storage area is accessed by an easy lift side opening. Maximum mattress weight 55 KG
>> View More Info | >> Read Customer Reviews