Pocket sprung
The Cotton Pocket 1000 has (as you could probably guess) 1000 pocket springs for a king size mattress. Pocket springs are great for back and side sleepers as they move individually, delivering full-body support that's totally tailored to you. The rod edge prevents the sides from sagging and ensures you feel properly supported even along the perimeter of the mattress. Overall these attributes work together to provide a medium tension mattress.
Premium qualities
The mattress' cover is made from a viscose-polyester blend that's wonderfully soft and curbs the build-up of allergens, while the traditional hand-tufting maintains the even distribution of fillings inside. As well as this, the mattress has air vents and handles for seasonal rotation, increasing the breathability and longevity of the Cotton Pocket. This mattress is one-sided making it extremely easy to care for, and also comes with our trusty 5-year warranty.
Is a medium mattress right for me?
Our preference of mattress can change each time we need to get a new mattress, and this is because our bodies develop different needs and we may need extra or less support. Medium mattresses are best designed for people who like to change their position a lot throughout the night, so you can have healthy spine alignment when you're sleeping on your side and back. If you prefer side sleeping only, a softer mattress would be better for you. On the opposite end of the spectrum, if you like sleeping on just your back, then a firmer mattress will best support you. That's why a medium mattress is a good middle ground for these sleeping positions. A medium mattress is best designed for lighter/average statures.
I've normally opted for a medium mattress, how do I know that it's still right for me?
If you're used to a particular tension of mattress then it's hard to to tell whether it benefits you as it used to. For those who have felt they've had a better night's sleep in a bed that felt firmer or softer recently, this is likely a sign that you should be opting for a new tension. Otherwise, if you've noticed that you've been waking up with aches and pains, then this may be a result of not receiving enough support when you're sleeping. If you do wake up with aches then you should upgrade your mattress after trying a range of new ones out.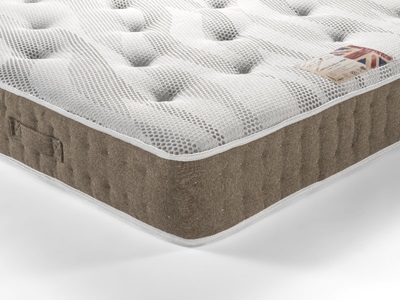 Today's deal:
British Bed Company Cotton Pocket 1000 Pocket Sprung Mattress from £250.75 (at Mattressman)
Medium, Pocket Sprung, Natural, Free Next Day Delivery
Description
The Cotton Pocket 1000 from the British Bed Company is another fantastic addition to the mattresses that they offer. With quality pocket springs and other luxurious attributes, this mattress is certainly a worthwhile investment.
---
View more:
Casper The Essential Mattress