Who is an extra firm mattress best designed for?
An extra firm mattress is best designed for those who are of a heavier stature or are preferred back sleepers. As most of weight resides in the middle of our body, back sleepers generally need more support than side sleepers. A mattress should support your natural spinal alignment, and that's why it's important that the mattress isn't soft enough for this part of your body to sink in. The same goes for those of a heavier stature, as you need more body support and even weight distribution. An extra firm mattress can do this because of the high tension in the springs. Front sleepers would also benefit from mattresses on the firmer end of the spectrum too, however an extra firm mattress may be too much overall. Finding the right mattress is finding the balance of what your body type needs and your own preferences.
How do I know if an extra firm mattress is good quality?
Without testing a mattress it's quite hard to know what the quality is like, however there are ways to curb this. Generally, you can rely on extra firm mattresses to not deteriorate as quickly as other mattresses due to the high tension they have in their springs already. Otherwise, it's a good idea to read the reviews and see how other people experienced a mattress and its firmness. The British Bed Company offer a 5 year guarantee with the Legend Ortho, suggesting it's of high quality.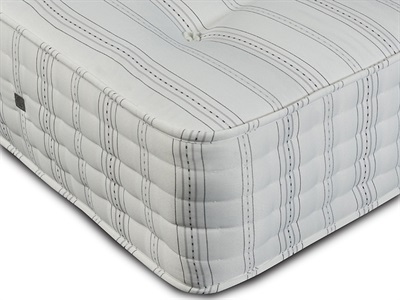 Today's deal:
British Bed Company The Legend Ortho 2021 Pocket Sprung Mattress from £352.75 (at Mattressman)
Extra Firm, Pocket Sprung, White Filling, Free Next Day Delivery
Description
The Legend Ortho 2021 is a great mattress if you enjoy a firm and comfortable bed. On top of the spring unit, there is a dense cushion layer that provides comfort to an already firm mattress. On top of this, a luxurious feel will come from the cotton rich cover. Although this mattress has a 5 year warranty, the fact that it's also double sided means that with regular head-to-toe rotations and flip overs, this mattress can have an incredibly long life-span if cared for properly.
---
View more:
Coolblue memory foam mattress
Casper The Essential Mattress
Silentnight Sofia 1200 Mirapocket Mattress