Our Natures Finest 8150 mattress uses durable Egyptian cotton to help keep you fresh and cool during the night. This material wicks potential moisture away from your body giving you extra comfort. You'll also get a superior and more luxurious feel as Egyptian cotton has longer and finer strands than ordinary cotton.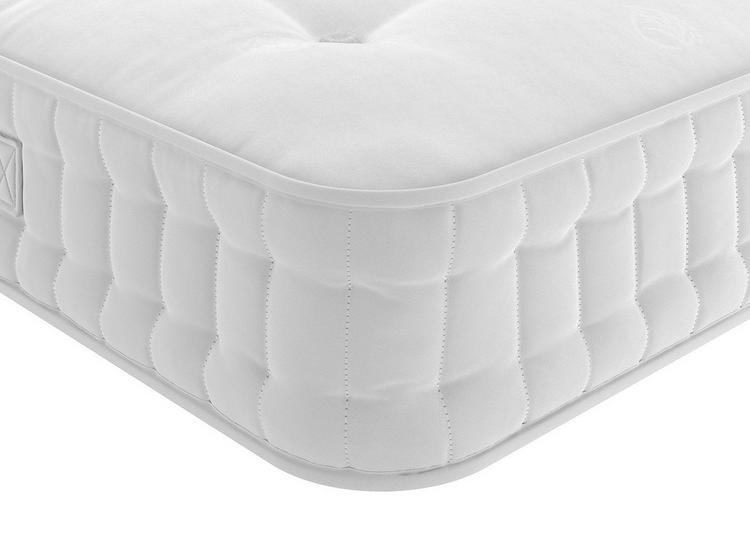 Flaxby Nature's Finest 8150 DNAir Mattress from £1,699
Flaxby Nature's Finest 8150 DNAir Mattresses are available in sizes: 2'6 Small single, 3'0 Single, 4'0 Small double, 4'6 Double, 5'0 King, 6'0 Super king
» CLICK HERE TO SHOP NOW at (DREAMS)
Flaxby Nature's Finest 8150 DNAir Mattress Description
Flaxby Nature's Finest 8150 DNAir Mattress. This mattress also includes layers of wool and mohair sourced from farms in and around Yorkshire. Using wool gives the mattress a soft, springy and naturally supportive feel whilst also possessing anti-bacterial properties. Mohair has a slightly softer and smoother texture than wool but still provides great strength with a more luxurious and silky feel.
A dual-sided mattress designed to keep you warm in winter and cool in summer – all you have to do is turn the mattress according to the season. The warm side of the mattress features a warming, wool blend closer to the sleep surface to help keep you warm during the colder months. Turn the mattress with the changing of the seasons so that a cotton blend is close to the sleep surface in the summer months, helping to keep you dry and cool.
Relax in enhanced comfort with the Natures Finest 8150 innovative Cortec pocket springs, and experience your most comfortable and supported sleep yet. The Cortec and DNA spring combination allows a stronger airflow towards the surface of the mattress, so your sleep will be well ventilated and temperature regulated. Each pocket spring moves independently meaning greater weight distribution and relief from pressure points that are known to cause sleep disturbances.
The mattress is covered with a luxury wool blend damask cover to make your mattress durable and prevent wear away. It also makes for a highly comfortable sleep due to its absorbent and temperature regulating qualities. Four handles make this mattress easy to rotate when needed. Made with care in the UK, this mattress is traditionally hand tufted and has two rows of hand side stitching for superior edge support.
Features of the Flaxby Nature's Finest 8150 DNAir Mattress
7118 pocket springs
Has a medium or firm comfort grade
Features a 100% recyclable Cortec pocket unit
It has a luxurious, natural and chemical free sleeping surface
Traditionally hand tufted for secure alignment
Two rows of side stitching offer superior edge support
Handmade in the UK by Harrison Spinks
Comes with our 40-Night Sleep Guarantee
Rest easy with a 5-year guarantee
Dreams Flaxby Nature's Finest 8150 DNAir Mattress Review