About Hypnos
Hypnos, a family-run business, has been making quality mattresses for a hundred years. The quality has been emulated with the honour of receiving a royal warrant for 'Bedding and upholstery manufacturers'. This symbolises the quality, excellence and service that Hypnos provide. As they go even further, Hypnos continue to become more and more of a sustainable manufacturer, and have recently partnered with Red Tractor Food and Farming Standards. This ensures that their mattresses are filled and upholstered with materials that have environmental standards in mind, which mirrors their standards which they've upheld for years. Demonstrated in their award of being the first carbon neutral bedmaker in the world, Hypnos continue down their path of excellence into the future.
What makes a softer mattress suitable for me?
Soft mattresses do not tend to vary and therefore are only suitable for a narrow group of people. Those who have lighter statures or prefer to sleep on their side will be most suited to such a mattress, as a soft mattress can provide the right level of support. If you're of a heavier stature or are a preferred back sleeper, a softer mattress can only go so far to support you. If it doesn't, then your spine won't be correctly aligned whilst you're sleeping, therefore causing you to wake up with aches and pains.
How can you tell what's a quality softer mattress?
There's no way of being able to tell what a high quality softer mattress is just by testing it out or looking at it. Only time can tell if the support works for you, so it's certainly worth reading reviews before making a decision. Generally a good soft mattress will continue to provide the support it does without deteriorating. It's much easier for this kind of mattress to deteriorate because they already have a low tension. However, Hypnos are known for their 'fit for a queen' quality, so we think you'll give this mattress your own seal of approval.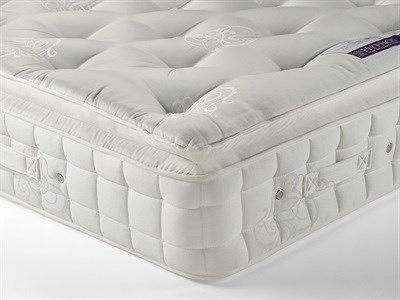 Today's deal:
Hypnos Premier Luxury Pillow Top Pocket Sprung Mattress from £857.65 (at Mattressman)
Softer, Pocket Sprung, Natural, Free Next Day Delivery
Description
If you're a fan of softer mattresses, then you will like to hear about the Premier Luxury Pillow Top from Hypnos. Featuring both pocket springs and a pillow top layer, it goes even further to provide soft, luxurious layers of silk and British wool. This mattress is easy care due to being one-sided, and the longevity of it is increased due to the two rows of genuine hand side-stitching.
---