Eco-friendly initiative
Memory foam is often a sought out component in mattresses due to its body-moulding properties, but it uses chemicals heavily throughout its manufacture and also traps heat very easily, causing you to get too hot in the night. Instead, Jaybe use layers e-Fibres to provide the same level of luxury comfort, whilst being much better for the environment and being much more breathable. There's a fine comfort layer below the surface of the mattress, a rebound layer below this so the mattress can mould to the contours of your body, and a high-density base e-Fibre layer, giving the mattress unparalleled support.
Not only this but when the e-Fibre is compared to cotton, it has 90% less CO2 emissions, uses 99% less water and has 99% reduced land space. If helping the environment is a cause that's close to you, why go for any other mattress?
Vacuum-packed
Whether you're picking up in-store or ordering online, vacuum-packaging is an easier and better way to protect the mattress whilst in transit. Reducing the size by up to 70%, it makes it a breeze taking it to your room of choice before unpackaging. Leave up to 24 hours before using to ensure it's resumed its original size.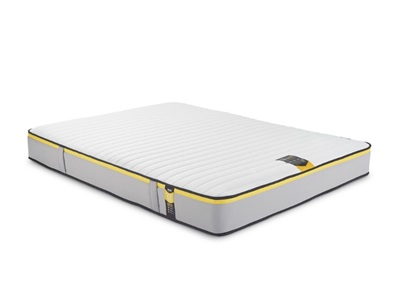 Today's deal:
JAY_BE Benchmark S5 Hybrid Open Coil Mattress from £198.9 (at Mattressman)
Medium Firm, Open Coil, No Description, Free Next Day Delivery
Description
Jay-Be have started a new generation of eco-friendly mattresses that aim to change the way we think about sleeping and sustainability. The Benchmark S5 has a multitude of different components that really make this a comfortable mattress, from the combined use of an open coil e-Spring core and micro e-Pocket springs, alongside lots of e-Fibre comfort layers. This mattress provides a medium firm tension, great for people who switch between side, back and front sleeping.
---