Designed with children and allergies in mind
Any parent who knows the qualms of allergies – be they seasonal or otherwise – will know that they are no small matter. Children spend almost half of their time sleeping, so it makes sense that you'd protect them against allergens in their bedtime environment. That's why Jay-Be has designed this anti-allergy mattress specifically for kids, to keep them calm and well rested each and every night.
Comfortable qualities
At its core, the Anti-Allergy Foam Free Sprung Kids mattress has a medium tension to provide the even support across the body, topped with a layer of smart-fibres which promote a healthy sleeping environment by regulating temperature, moisture and airflow to keep them cool and dry, and keep the mattress fresh, as well as providing a comfortable surface on which to rest. But the method behind the hypoallergenic madness is the specially designed Purotex treatment; a 100% natural, pro-biotic remedy which fights bacteria, fungi and dust mites – all common allergy triggers.
Is a medium mattress suitable for children?
Jay-Be have designed this mattress with children in mind, hence the name Simply Kids! Medium mattresses are great for children because of their light statures, where they can be fully supported without over-straining the springs. Anything firmer may cause improper spine alignment which can eventually become quite achey or painful.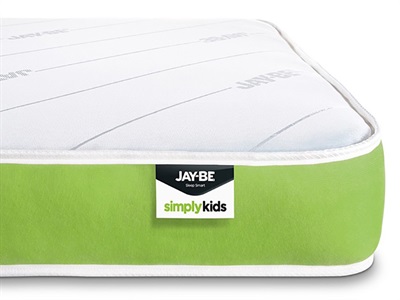 Today's deal:
JAY_BE Simply Kids Anti-Allergy Foam Free Sprung Open Coil Mattress from £98.6 (at Mattressman)
Medium, Open Coil, White Filling
Description
If you're looking for a durable mattress for your child, you'll be impressed by the practical qualities by the Simply Kids mattress. This mattress is made in the UK by Jay-Be, who offer a five-year guarantee with every purchase.
---