Designed for children
Just like their minds, children's bones and muscles are never more impressionable than during their toddler years. With this in mind, Jay-Be has developed the Foam Free Sprung Toddler Mattress, which has a medium tension spring unit at its core to provide even support across the breadth of the mattress. On top of this is a layer of smart fibre which helps to not only keep them comfortable and cushioned from the springs underneath but also keeps them cool and dry by regulating moisture and temperature through the night. This means plenty less sleepless nights, keeping them well-rested for the challenges each day brings them.
Is a medium tension suitable for children?
This tension of mattress is great for children due to their lighter statures, meaning they will not over-strain the springs of the mattress and therefore cause it to lose shape. Anything firmer could cause them to sleep in positions which may not promote healthy spine alignment, which should be avoided at all costs for a growing child.
Can an adult use a medium mattress?
Adults of lighter or average statures are suited to medium mattresses for the same reason that children are suited to this mattress. However given that this mattress is designed for kids, we suggest that adults do not use this for an extended period of time. Therefore this mattress could be used as a spare room mattress, where it will only be used occasionally be adults.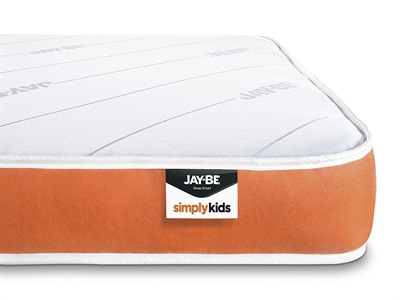 Today's deal:
JAY_BE Simply Kids Foam Free Sprung Mattress Open Coil from £88.4 (at Mattressman)
Medium, Open Coil, White Filling
Description
Jay-Be have manufactured another fantastic mattress designed with children in mind. As parents we want to protect our kids from anything harmful, and that's why this foam-free mattress is a great option for children. Great for bunk beds, this mattress also arrives vacuum packed to make the lives of parents much easier.
---