Seasonal mattress
If you get easily uncomfortable with your temperature at night, then Restopaedic's Cool Pocket 1000 may have the technology you've been looking for. The seasonal mattress is double sided and each side is designed to be used for different periods of the year.
Ultra Cool Ice Fabric is what is incorporated into the summer side, and has been regarded as a breakthrough in sleep science. As it feels cool to touch, it really does help people that get too hot in the summer.
On the other side of the mattress which would be used for winter, there's a layer of memory foam. Naturally, memory foam has insulating properties to keep you warm on cold nights. Therefore this mattress is a great all-rounder for the whole year.
Pocket springs
In between these seasonal layers there's 1000 innovative pocket springs. Pocket springs are individually moving springs that are enclosed in their own fabric. As each spring moves separately from one another, they can shape to the contours and movements of your body while you're sleeping. Generally pocket sprung mattresses are much quieter than other spring systems, and prevent 'roll-together' too.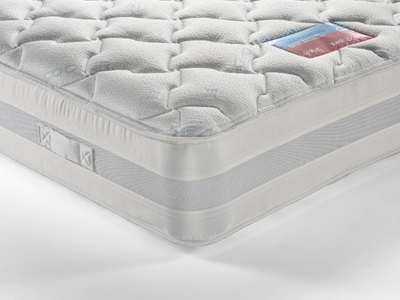 Today's deal:
Restopaedic Cool Pocket 1000 Pocket Sprung Mattress from £344.25 (at Mattressman)
Medium, Pocket Sprung, Memory Foam, Free Next Day Delivery
Description
The Cool Pocket 1000 from Restopaedic is an extremely innovative mattress that regulates body temperatures at night like no other. With this, the Cool Pocket has some other great qualities: it comes with a 100% hypoallergenic fillings, a micro-quilted knitted cover and a 5-year warranty. These aspects contribute to a truly comfortable nights sleep.
---
View more: Coolblue memory foam mattress