Posturepedic backcare
This mattress contains Sealy's innovative PostureTech 620 spring system, which offers qualities such as increased support and stability. The Millionaire Plush has twice-tempered springs which are more durable, and the PostureTech is designed to stabilise areas where the most weight will be. Encouraging healthy posture through correctly aligning the spine, this mattress is medium on the firmness scale.
Micro quilting and knitted cover
Micro quilting is a patterned quilt layer that comes from stitching together the fabric and fillings of the mattress. This provides a super comfortable and soft layer. For even more comfort, this mattress features a knitted cover that stretches with the movements of the mattress. As this layer is also quite elastic, it gives the mattress breathing abilities to let out any excess moisture.
How do I know if a medium mattress is suitable for me?
First and foremost, it's always important to try out a range of different mattresses before you purchase one. It's said that an adults preference of mattress could have changed and developed by the time they need a new one, making it important to try out a range. If you're of a lighter/average stature, the springs in a medium mattress will comfortably be able to hold your weight without straining. For those who are heavier, you may receive better support on a firmer mattress.
What sleeping position is best suited for a medium mattress?
People who move and change their sleeping position a lot throughout the night, you may be best suited to a medium mattress. A softer mattress is best designed for side sleepers, due to the fact that they can have more cushioning and this helps promote healthy spine alignment. Firmer mattresses are best at supporting back sleepers, ensuring that their lower back doesn't sink into the mattress too much. A medium mattress offers a great balance, providing both support and comfort for whatever position you're in.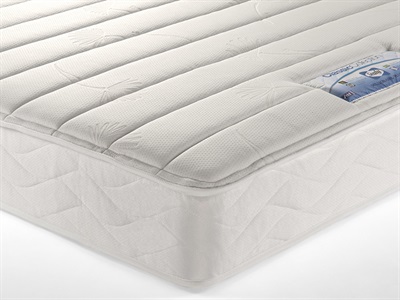 Today's deal:
Sealy Millionaire Plush Open Coil Mattress from £205.7 (at Mattressman)
Medium, Open Coil, White Filling, Free Next Day Delivery
Description
Sealy strive to be able to provide everyone with a great night's sleep. That's why they have worked alongside the British Chiropractic Association and medical experts to ensure they can provide a quality mattress. The Millionaire Plush is no different, authorised by the Orthopedic Advisory Board as well as featuring deep layers of luxurious upholstery and advanced support. The mattress also comes with a 5 year guarantee.
---