Mirapocket spring system with orthopaedic back care
Similar to a pocket sprung system, Silentnight have created their own system called the Mirapocket. Comprised of 1400 individually moving springs, it allows the mattress to move with the contours of your body and provide ultimate support. Each spring is encased in its own fabric pocket which provides the right tension for this mattress. What makes this different from a normal pocket sprung mattress is that it can deliver targeted support through its individual responsive spring system. This is especially in the areas that need it most such as the spine, neck, shoulders, hips, knees and heels. On top of this you'll receive support from edge to edge, making this the ideal mattress for anyone who prefers a firmer mattress or requires firm back care.
Innovative technology
Silentnight have incorporated very advanced technology into this mattress, starting with the Purotex treated cover. Designed to keep the mattress fresh, it's resistant to the build up of dust mites as well as reducing excess moisture. Wicking away extra moisture helps keep the mattress fresher and drier at any time of the year. On top of this, the mattress features a breathable border which allows the mattress to release the build up of moisture, providing optimal airflow and breathability. Purotex has been endorsed by Allergy UK, making this natural solution to allergens great for those who have allergies, asthma and eczema.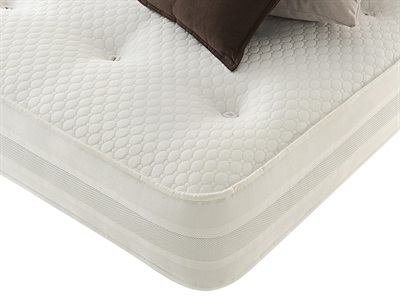 Today's deal:
Silentnight Pocket 1400 Eco Comfort Ortho Pocket Sprung Mattress from £259.25 (at Mattressman)
Firmer, Pocket Sprung, Natural, Free Next Day Delivery
Description
With many desirable qualities, the 1400 Eco Comfort Ortho from Silentnight is perfect for those who need or prefer a firmer mattress. Supportive, hypoallergenic and breathable, this mattress is also easy to care for because it's one sided. Increased tension to the springs and fillings is provided through the traditional hand-tufting. Silentnight give the 1400 Eco Comfort Ortho a 5 year guarantee too which speaks volumes for its quality.
---