Open coil spring system
This mattress has a traditional bonnel sprung mattress which provides a medium tension. Alongside this, the mattress has a six-gauge rod edge which ensures support for the mattress spans to the edge of each side, reducing the likelihood of sagging and improving longevity.
Premium qualities
Encasing this system is a luxury damask cover, which allows for the mattress to breathe whilst also providing a soft surface. Below this are layers of soft fibre fillings that make this mattress feel much more comfortable. This mattress comes with a one year guarantee and is also double sided, meaning if you rotate and flip regularly then you can increase its lifespan.
Is a medium tension right for me?
For those who are of average/light weights, you'll be well suited to a medium mattress. The springs which aren't as taut as firmer mattresses therefore they won't be as strained under this weight, therefore can maintain it's shape and support functions. If you move positions a lot in the night, you will find comfort in a medium mattress. This is because a softer mattress is good for side sleepers and a firmer mattress is good for back sleepers, so this 'in-between' mattress is suitable for people who like to toss between sleeping positions.
What makes a good medium mattress?
Medium is a hard tension to get right, you don't want it to be too soft or too firm. When a mattress can get this right, alongside the ability to maintain the same level of support after prolonged usage, it demonstrates a good quality medium mattress. Whilst Snuggle Beds are more of a budget option, the durability of the mattresses they produce go above and beyond considering the value for money.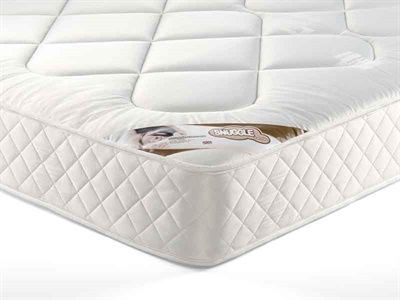 Today's deal:
Snuggle Beds Snuggle Damask Quilt Open Coil Mattress from £109.65 (at Mattressman)
Medium, Open Coil, White Filling, Free Next Day Delivery
Description
For a mattress on a budget, consider the Snuggle Damask Quilt Open Coil Mattress. Whilst on the cheaper end of the spectrum for mattresses, it still has some great qualities that truly show its worth more than the price tag.
This Mattress is pure Classic Gold, a proven winner and in our Range for over 15 years
---