Pocket Sprung and foam layer
If you're looking for a mattress that provides support from a pocket spring system, as well as comfort from a foam layer, look no further than the Pocket 1000 Deluxe from UNO. The 1000 pocket springs move individually which results in the springs being able to move with the contours of your body whilst also providing firm support. The Pocket 1000 Deluxe is rated firmer on the firmness scale.
Above this is 10cm of high density reflex foam which certainly gives this mattress comfort. Not only does it add to the support that the springs bring to the mattress, but also improves your circulation.
The Uno Pocket 1000 Deluxe is a great mattress for such a small price. It's a pocket sprung unit with 10cm of high density foam over the springs. It's only 20 cm deep but still more than suitable for heavily weighted people like me. It comes with a 10-year guarantee and arrives vacuum packed. This mattress is a superb choice for almost anyone.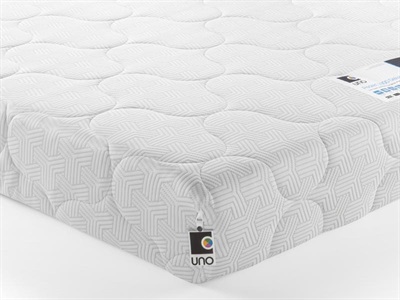 Today's deal:
UNO Pocket 1000 Deluxe Pocket Sprung Mattress from £271.15 (at Mattressman)
Firmer, Pocket Sprung, Reflex Foam, Free Next Day Delivery
Description
Alongside the unparalleled support and comfort that this mattress provides, it also has used the latest advanced technologies to make the Pocket 1000 Deluxe really something else. Smart fibres are incorporated in the Fresche© treated cover, which inhibit the growth of domestic dust mites and prevent bacterial and fungal build-ups.
---